BANKSY ADMITS TO CHELTENHAM SPIES ARTWORK - THREE SPIES -
by VIRAL on 06/24/14
Have to give a shout out the the Master BANKSY - Banksy's new " THREE SPY or SPY BOOTH" Piece - Check out the article from the GUARDIAN and pics below - " much props to banksy
The guerrilla graffiti artist Banksy has confirmed that he is the creator of an artwork showing trenchcoat-wearing, sunglass-sporting spies close to the surveillance agency GCHQ.
Dubbed Spy Booth, the image of three spooks equipped with listening devices and surrounding a phone box appeared in April on the corner of two residential streets in Cheltenham, Gloucestershire.
Check out the article here http://www.theguardian.com/artanddesign/2014/jun/10/banksy-creator-spy-booth-wall-art-gchq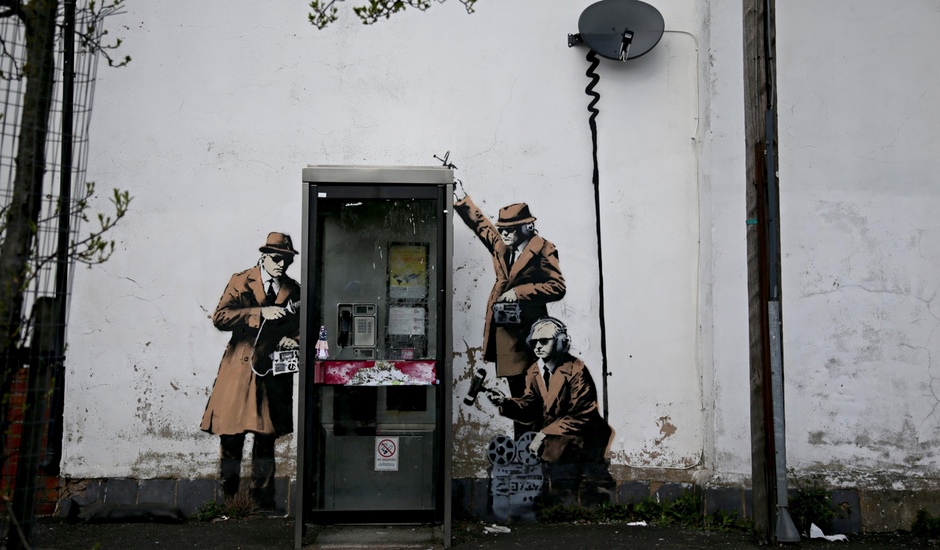 It was suspected that the work was by Banksy, but the artist has confirmed it on the Q&A section of his website. Asked: "Did you paint the spies in Cheltenham?" He replied: "Yes."